Reprinted from the Dallas Morning News August 14, 2005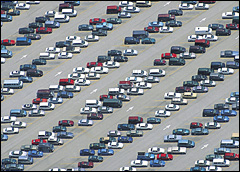 It comes as no surprise that Americans are under severe stress due to crushing debt levels and a savings rate that is basically zero. It's not surprising because we are encouraged to over-consume by nearly every facet of culture and media. Worse, we have internalized consumerism to the point where it has become our value system.
As media critic Mark Crispin Miller told me recently, we have been reduced to being "receivers of messages that constantly tell us that the only thing that matters in life  s to go shopping and then stay home with your stuff." Which is, as he says, "profoundly anti-democratic."
We have replaced the model of "citizen" with the model of "consumer." The citizen model encouraged group involvement, debate, and community. The consumer model encourages immediate gratification and personal indulgence. It replaces the real empowerment of civic engagement with a fantasy of empowerment enabled through consumer products.
And not only has the role of consumer become our primary function in society, it has, in large respects, become our religion.
The new Ikea is like the big blue consumer cathedral of Frisco, dominating the landscape like the pyramids (except much uglier). And the hype surrounding its opening is like any new blip on the shopping landscape: its novelty arouses us for a short while, but then we're on the hunt again for the next promise of material salvation.
And if consumerism is our new religion, one aspect is conspicuously absent: the ethical one. We shop without considering the larger ramifications of our purchases. How and where was this product made? Who and what am I supporting by paying for this thing? How are the workers treated? (The difference between Wal-Mart and Costco, for example). We are encouraged to isolate the buying experience into how it will make us feel in the moment and to ignore the larger effects.
These days the effects reach all around the world.
And as Americans we like to think we have a system and ideas worthy of exporting to the world. If the American Dream has degenerated in to a consumer dystopia, we might want to do some rethinking. Here in the wealthiest county in Texas we serve as a kind of model. It is an unsustainable ideal. Our hyper consumptive, supersized lifestyle is a disastrous example for the rest of the world. Especially in booming places like China, where if everyone drove the aptly named Suburban and bought oversized houses the environment would literally collapse.
Some say "personal responsibility" is the answer. True enough when it's a fair fight, but it's not. As individuals we are grossly outmatched by enormous propaganda campaigns, market studies, Ivy League psychologists, and "perception managers" who do just that – manage our perceptions
of everything. Sadly, they also manage the perceptions we have of ourselves.
This is especially offensive when it comes to our children. The marketing most of us were subjected to growing up seems quaint compared to the industry that is aggressively targeting the youth of today.
Our kids are being trained to be good consumers, which is certainly not the same thing as being a good person, or a good American. Girls get shopping mall games and boys get mini-Hummers, the very symbol of excessive, wasteful consumption.
And everything is branded. Few well-designed toys exist that are not cross-selling something else: sugary snacks, sugary pop idols, animated characters.
Walking through a mega toy store you get the sense that life is nothing but a series of acquisitions. That basically childhood is a matter of working your way through the different departments, front to back. Then you get to head to the big box stores and the SUV lot. Then you get a starter castle. Your identity is defined by what you have, even if it's the same thing everyone else has.
If consumerism has replaced citizenship, then the more stuff you have the higher your status. And as long as status is equated with stuff our personal, financial, and civic lives will continue to deteriorate. It's good for the marketers, but it's bad for democracy.
The American philosopher William James said that worship of success was our national disease. The problem is, in order to cure the disease, we have to admit that we are afflicted in the first place.
Photo from the film Subdivided courtesy of Jim Wark / AirphotoNA